GOLDEN GLOBE MOSQUE, ÇAMLICA, İSTANBUL, TURKEY
---
'The Golden Globe Mosque'

Çamlıca
Istanbul, Turkey

Professor
Dr. Ahmet Vefik Alp
Architect Urbanist
TMMOB, AIA, RIBA



The Grand Mosque of Camlica is a project that would reshape the silhouette of Istanbul. It is located at 250m altitude at the Asian Side Camlica Hill, the highest altitude of the City. The ensemble seats on a rectangular base derived from the Ottoman Master Architect Sinan's masterpieces. It is made of five levels, three of them serving the functional needs such the auditorium, classrooms, studios, library, museum, cafes and restaurants; and the lower two levels housing the car parking and mechanical /service spaces. The grid plan layout allows easy internal changes bringing versatility and flexibility to the Project. While the corner vertical circulation shafts relate all levels via stairs and lifts, projecting external stairways and escalators carry the public directly to the upper platforms.
The main courtyard is surrounded in its three sides by arcades cascading down in accordance with the site topography. This monumental composition is reminiscent of the 'Hanging Gardens of Babel' in Mesopotamia, the 'Temple of Hachepsut Queen of Egypt' and the 'Temples of Aztecs and Mayas' in South America.
The 7000-person main paying space is housed inside the Golden Globe made of verses of the Holy Qur'an from simulated-gold Arabic letters. It reminds us the 'Qubbet-us Sahra', otherwise stated the Dome of the Rock in Jerusalem, the holy focus for Muslims after Meccah al-Mucarramah and Medina al-Munawwarah in Saudi Arabia today. The main space also comprises a 1500-person women's balcony and is reserved for Friday and religious days attracting larger people. The Golden Globe possesses two more levels below the main prayer space: The inferior 3500-person praying space for routine prayers and a mechanical level below. The entrance to the praying spaces is secured by bridges from the upper and lower courtyards. The outside praying capacity of the main courtyard is 12000 persons and that of lower platform is 4000 persons. The in and out total prayer capacity of the Mosque sums up to 28000 persons.

The Golden Globe made of Quranic verses symbolises the World conquered by the Islamic Culture. It is supported from below by metallic tubular elements and seems floating over a cascading circular pool descending from upper to the lower parking level. The pool itself is surrounded by a rectangular garden with Islamic landscape patterns.
If realized, the project is expected to be one of the principal monuments of the Islamic World.


---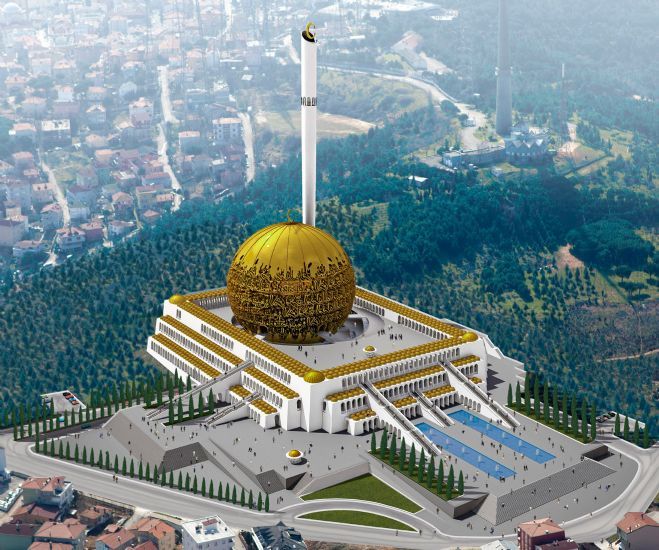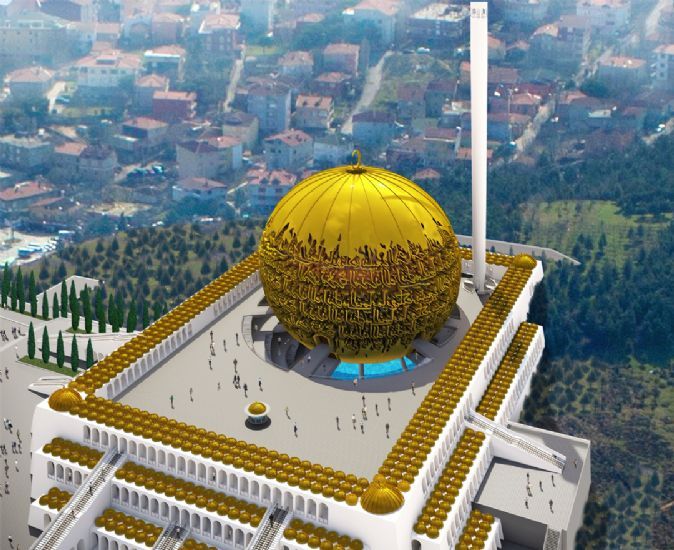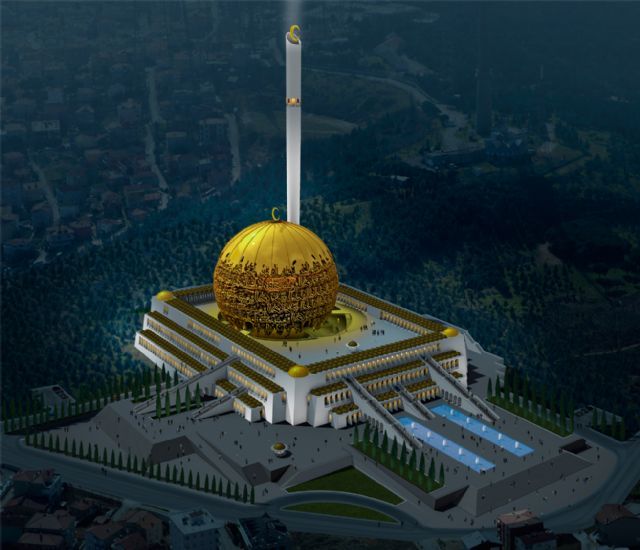 ---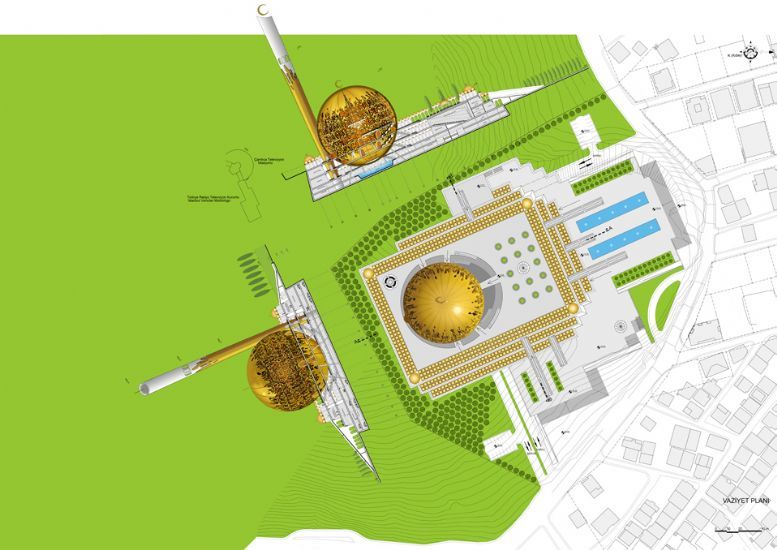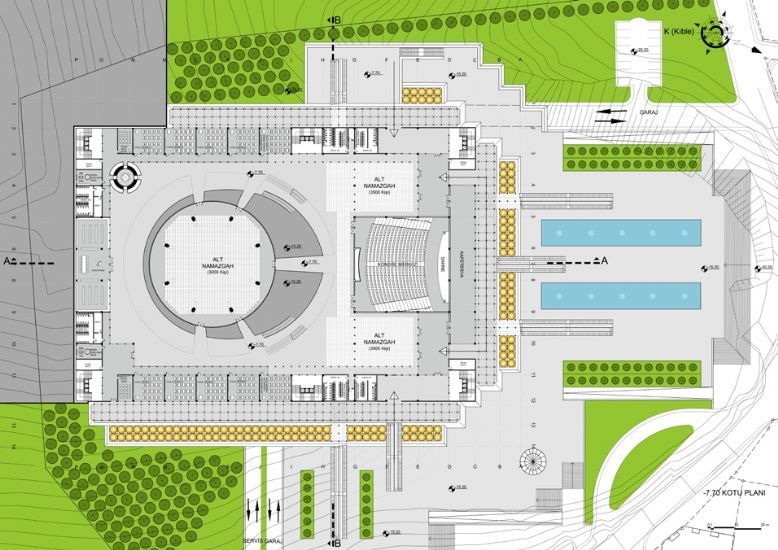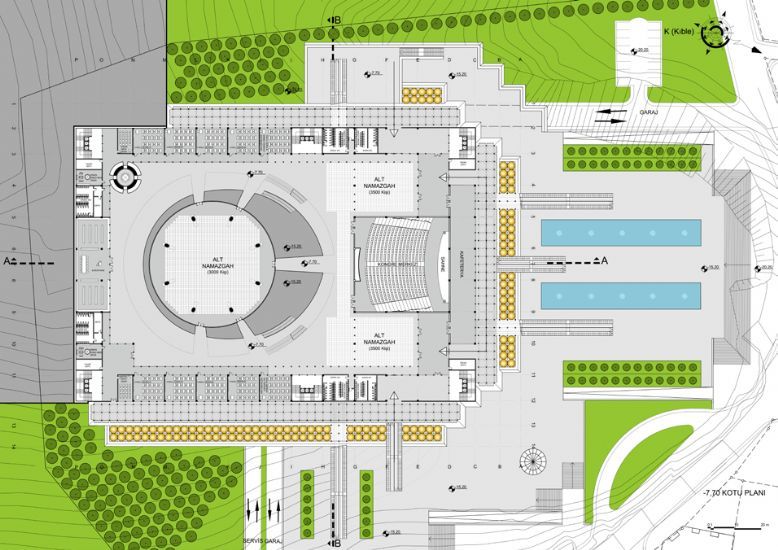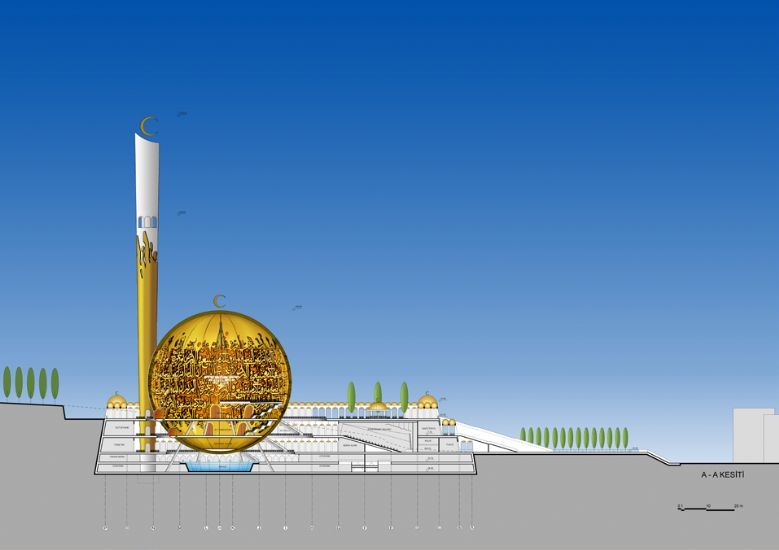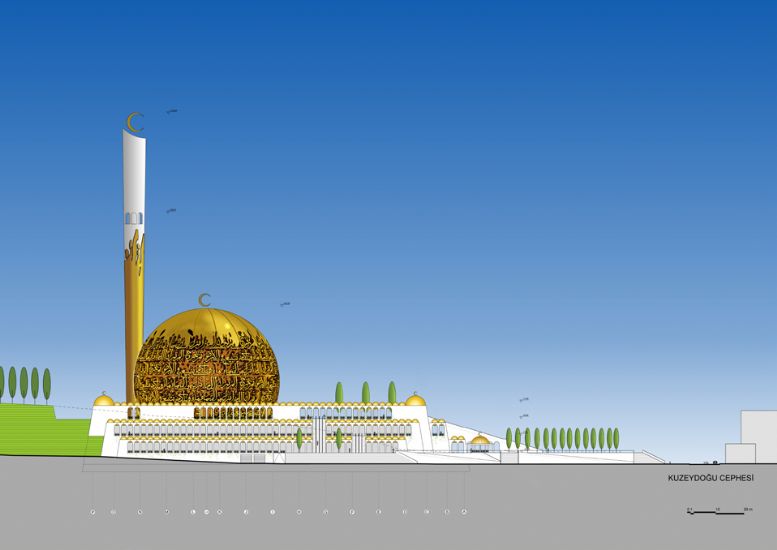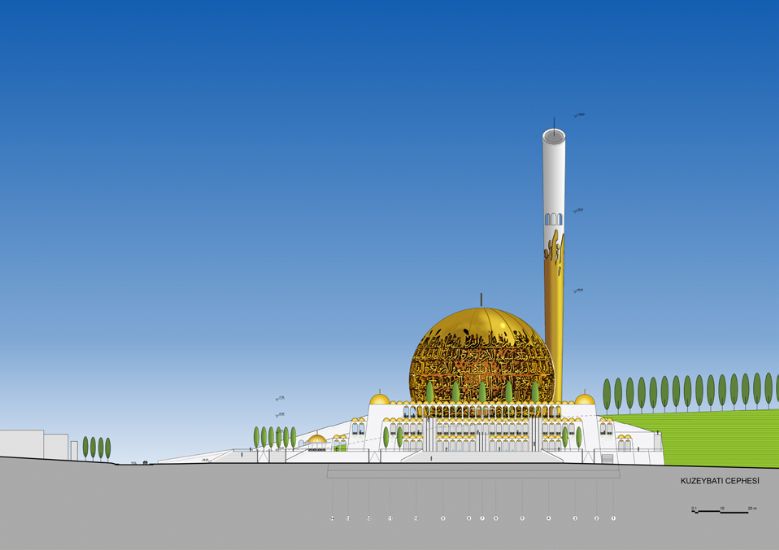 « Back